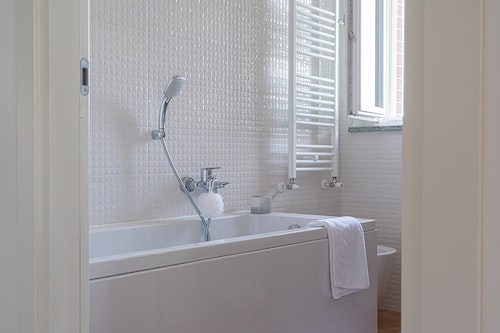 DIY home improvement offers endless possibilities for upgrading and customizing your home. From individual furniture pieces to bathroom fixtures to flooring, you can find home improvement ideas to fit any budget and skill level.
Here are some great DIY home improvement projects to inspire you:
Add wood accents to furniture
You can turn any furnishing into a piece of vintage art by adding wooden appliqués. Head to your local craft store or search online for vintage-inspired appliques and let your imagination run wild. You can find appliques to define trim, enhance corners or simply add vintage details to your furnishings.
Simply mix and match the pieces you enjoy, and attach with a bit of wood glue. The paint and stain combinations are endless, so feel free to experiment with new ways to refurbish your existing furnishings.
Paint your bath tub
Rather than replace your damaged or dated bath tub, why not save money and paint it? If you have a tub made of ceramic, porcelain or fiberglass, you have the option of using special epoxy to make it seem new again. Unlike other types of paint, this special tub and tile paint won't crack or peel from moisture or temperature changes.
Add a fresh coat of the existing color to bring out the original pristine ceramic finish, or try a bold hue to transform your entire bathroom aesthetic. Most brands go on just like spray paint, making them a quick and simple home improvement project.
Transform a floor with vinyl tiles
Rather than spend a fortune on new hardwood floors, consider installing vinyl tiles for a quick and affordable makeover. Sometimes called self-stick or peel-and-stick tiles, vinyl floor tiles come in a variety of patterns, sizes and color palettes.
They're also water-resistant and durable, making them the perfect DIY home improvement project for a bathroom, kitchen, laundry room or mudroom. Using basic tools and careful measuring, you can have a brand-new floor in just a few hours.
Are you ready to grab your tools and try some DIY home improvement? If so, keep these ideas for home improvement projects in mind.