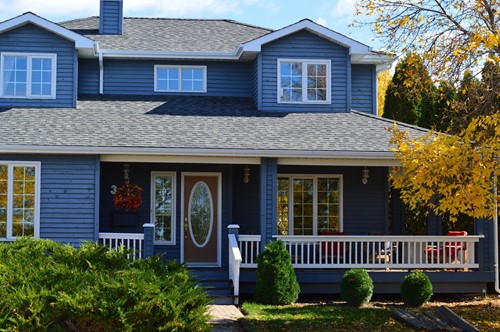 Some of the best home improvements you can make are upgrades to your home's exterior and curb appeal. According to some experts, buyers pay 7% more for a property with attractive curb appeal than those with a deteriorating or lackluster exterior.
However, some home improvement projects have a higher return than others. If you're interested in ways to boost the resale value of your home, here are some of the best home improvements to consider:
Add stone veneer to your home's exterior
An excellent way to wow potential buyers and still save money is to add stone veneer to your home. Stone veneer comes in a wide range of colors and textures to match your existing exterior, and is simple enough to install yourself. Whether you choose veneer as a subtle accent or a bold makeover, you can mimic the appearance of natural stone without the hassle and cost.
Replace your garage door
Many homeowners don't realize how much of their home's curb appeal depends on their garage door. Especially for homes with front-facing garages, the garage door accounts for a large portion of the overall facade. Therefore, upgrading it can make an enormous difference.
Replacing the garage door entirely with new wiring and components will boost your resale value. However, even adding a fresh coat of paint to the door can transform the entire aesthetic of your home exterior.
Refinish your exterior paint
Sometimes, simple changes make the most noticeable difference. A fresh coat of paint on your house exterior is a wonderful way to upgrade your curb appeal, but refinishing your existing paint is another option.
Also, if you haven't had the exterior of your home cleaned with professional power washing equipment, this is a great opportunity. A thorough cleaning can brighten up the existing paint and make your home seem brand new again.
These are only a few of the home improvement projects to consider if you want to increase your home's curb appeal. Whether you intend to impress potential buyers or enjoy a more aesthetically pleasing home, enhancing the exterior of your house is the perfect solution.